BOOKS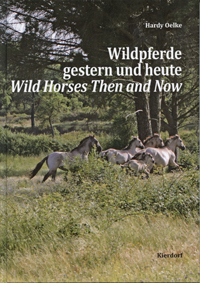 WILDPFERDE GESTERN UND HEUTE – WILD HORSES THEN AND NOW
This new book is a compilation of information on wild horses, from postglacial until today, with chapters on the Tarpan, the Mongolian wild horse, the Sorraia, Konik, and Exmoor, domestication and dedomestication, wild horse colors, etc. Additional chapters on the Duelmener, Camargue, and mustang. There is no other book like this!
"Wonderful… Kierdorf publishing can be proud to have this book in their program--not only because of its factual content, but because it is also an aesthetic delight."
Prof. Dr. Rainer Willmann, II. Zoological Institute and Museum, Goettingen
"The book is very interesting, rich in content, and very well illustrated. An additional plus is that it is bi-lingual German-English. Your book will certainly be an oustanding source of information on wild horses."
Prof. Dr. Tadeusz Jezierski, Polish Academy of Sciences
Dieses neue Buch ist eine Sammlung von Informationen über Wildpferde, von der Steinzeit bis heute. Kapitel über den Tarpan, das Mongolische Wildpferd, das Sorraia-Pferd, den Konik und das Exmoor Pony, über Domestikation und Dedomestikation, Wildpferdfarben usw. Zusätzliche Kapitel über Dülmener, Camarguais und Mustang. Es gibt kein zweites solches Werk!
"Wundervoll… Der Kierdorf Verlag kann stolz darauf sein, dieses Buch in seinem Programm zu haben – nicht nur der sachlichen Inhalte wegen, sondern es ist auch ein ästhetischer Genuss."
Prof. Dr. Rainer Willmann, II. Zoologisches Institut und Museum, Göttingen
"Das Buch ist sehr inhaltsreich und auch sehr gut bebildert. Ein zusätzliches Plus ist, dass es zweisprachig (deutsch/englisch) ist. Sicherlich … ein hervorragende Informationsquelle über Wildpferde."
Prof. Dr. Tadeusz Jezierski, Polnische Akademie der Wissenschaften
Hardcover, 136 pages, full color, ca. 19 x 28 cm, bi-lingual German/English
150 photographs and illustrations, five plates
Foreword by Dr. Thomas Jansen, zoologist and moleculargeneticist
25.00 Euros, plus shipping & handling: 2.00 euros within Germany, 8.00 euros internationally
Order at oehorse@t-online.de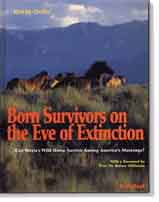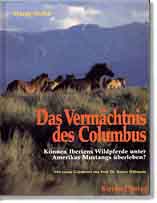 BORN SURVIVORS ON THE EVE OF EXTINCTION
DAS VERMÄCHTNIS DES COLUMBUS
Can Iberia's Wild Horse Survive Among America's Mustangs?
by Hardy Oelke
The must-have book on Sorraias, mustangs, and Sorraia Mustangs.
"One of the most important and especially responsible works published in recent years", says zoologist Prof. Dr. Willmann about this book, which brings to your attention one of the world's last primitive horses, the Sorraia, and the precarious situation its offshoot, the Sorraia-type mus-tang, is in.
Wild Horses, feral horses, ancestral horses, the Sorraia horse, history of the American mustang, the Spanish mustang, the preservation of the Spanish mustang and the Sorraia, scientific proof for the authenticity of the Sorraia mustang – these are topices covered in this outstanding book, which deals with Przewalski's horse as well as with the Tarpan, with ancestral wild horse forms, with the "Barb myth", with the question of how Sorraias came to the New World, with how they could survive in the wild, and with the history of different mustang herds.
"Born Survivors on the Eve of Extinction" – interesting, educational, and fascinating reading for all Iberian horse enthusiasts, wild horse lovers, and mustang fans
BORN SURVIVORS ON THE EVE OF EXTINCTION
– Limited Edition –
95 pages, lots of beautiful color photographs, hardcover, ca. 21 x 27 cm
$ 29.95 plus shipping and handling
Available at
Rock Multimedia Solutions
Castle Rock, CO 80108, USA
http://www.rockmultimediasolutions.com/books.htm
or
Premier Publishing Equine, POB 137, Wamego, KS 66547-0137
E-mail: hoofnote@wamego.net
DAS VERMÄCHTNIS DES COLUMBUS (in Deutsch):
Kierdorf Verlag
Tel. 02266-4407070, E-mail: kierdorf-verlag@t-online.de